How to Look Up Your Sample Ballot & Election Day Precinct
You can look up your sample ballot, Election Day voting location (precinct), and your voting districts through a three-step process on the State Board of Elections voter lookup tool.
We provide instructions on how to complete this process below.
To find your Election Day precinct and sample ballot on the voter lookup tool, follow the three steps below.
Once you arrive at the Voter Lookup Tool, enter your first and last names as they appear on your voter registration record. Don't enter a middle name. It's not necessary to enter your birth date or county unless you have a very common name. Click "Search."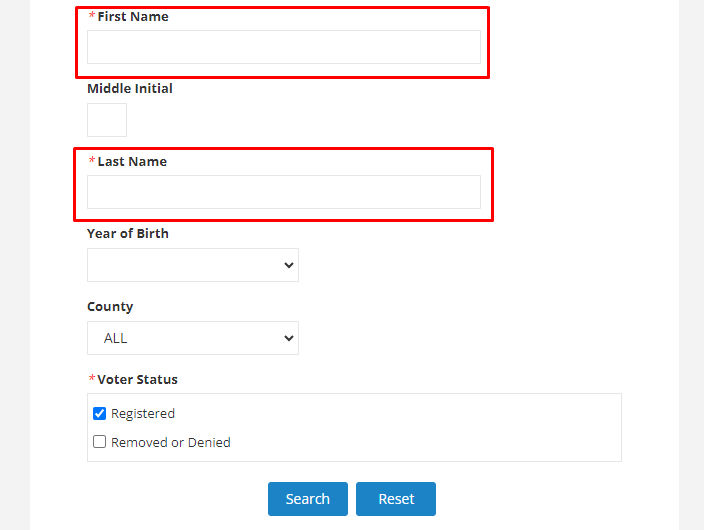 Click on your name from the list of similar names to see a profile of your registration, including your precinct's Election Day polling place, the jurisdictions you live in, and a link to your Sample Ballot.
Below the heading, "Your Voting Locations," see the location name and address for your Election Day voting location (precinct).
Below the heading, "Sample Ballot," click on the letter/number to the right of the current Election date on the page with your registration profile.  This will bring up a new page with your sample ballot.
About new district lines
The boundary lines of many N.C. State House, N.C. State Senate, and U.S. Congressional districts were recently redrawn as a result of the 2020 Census. Some precincts were divided differently than in past years so you may receive a different ballot than your neighbors.
You can view all of your voting districts (for local, state, and national offices) in the voter lookup tool explained above.  See the image below for where to find them under the heading "Your Jurisdictions."
Did you find the information you were looking for?